Description:
A fine Edwardian silver tray by Elkington & Co, Birmingham 1901 with Agatha Christie interest.

Weight 165,8oz (5,158gms) Length: 29.25 (74.3 cm), width:19.25 (49 cm), height: 1.75" (4.6 cm)




The tray has leafy scroll handles, raised rim gadrooned with interval shell foliage. Finely engraved throughout with presentation engraving:
"Presented to
James Watts Junr. Esq: B. H.
By the Employees of S. & J. Watts & Co.
on the occasion of his marriage
with good wishes for long life, health & happiness
September 10th 1902"
The shield Crest and motto for Watts of Abney Hall, Cheshire.

Now the interesting bit, James Watt married Margaret (Madge) Frary Miller (1879-1950), Agatha Christie's Sister.

Young Agatha at Abney Hall

Abney Hall became Agatha Christie's greatest inspiration for country-house life, with all the servants and grandeur which have been woven into her plots. The descriptions of the fictional houses Styles, Chimneys, Stoneygates and the other houses in her stories are mostly Abney in various forms. Many references to various places around Cheadle can be found in her books.

The splendour of Abney Hall, with its many gables, clusters of chimney-stacks and stone gargoyles and mullions to the exterior, its interior a polychrome Gothic Revival extravaganza by J.G. Crace, would provide the fictional setting for a number of Agatha Christie's novels. It appears as Rutherford Hall in '4.50 from Padding-ton'; in 'After the Funeral', it is described as 'a proper old mausoleum'; masquerading as 'Stonygates' in 'They Do It With Mirrors', it's dismissed as a 'sort of Gothic monstrosity, best Victorian Lavatory period' with its 'quantities of rooms, passages, unexpected steps, back staircases, front staircases, alcoves and hidden niches'.

In the forward to Adventure of Christmas Pudding, Agatha Christie mentions happy Christmases she spent at Abney Hall.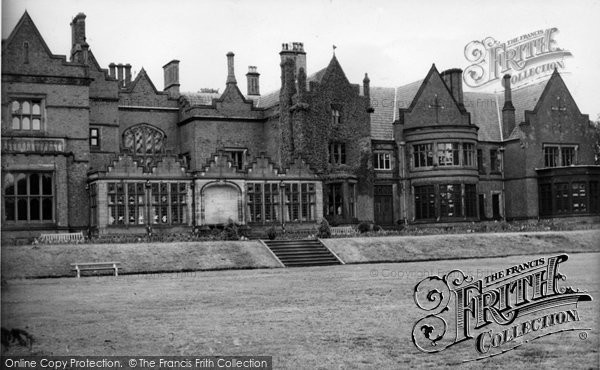 Although Agatha Christie was born in Torquay and lived in a large Victorian house called Ashfield overlooking the river Dart, she was a regular visitor to Cheshire from an early age. Her sister, Margaret, had married James Watts of Abney Hall, Cheadle in 1902. Agatha spent Christmas there several times, first at the age of 12 after her father Fred had died. She went with her mother Clara to the Victorian estate and recalled: "It was a wonderful house to have Christmas in if you were a child". Filled with rooms passages and alcoves, it was "everything in the world a child could want".

In The Adventure of the Christmas Pudding and a Selection of Entrees (1960), the dedication reads: "Let me dedicate this book to the memory of Abney Hall - its kindness and its hospitality. And a Happy Christmas to all who read this book".

An earlier work, After the Funeral (1953), was dedicated: 'For James, in memory of happy days at Abney'. Many references to various places around Cheadle can also be found in Christie's books.
Early years
Agatha often refers to her status in the family, as it was her parents will that she was not to be educated or marry, but to stay at home to care for them. However, in 1901, when Agatha was 11, her father died, leaving the family in some financial difficulty. Her sister married James Watts in 1902. It was at the wedding that Agatha met Nan Watts, James' cousin, and they formed a life-long friendship. At 18, Agatha went to live in the genteel Anglo-Egyptian community in Cairo for a while with her mother, and when she was 22, she met Archibald Christie at a dance at Abney Hall and embarked on a tumultuous relationship of which her mother disapproved, and married him suddenly two years later, on Christmas Eve, 1914.
Archie returned to duties in the Great War and Agatha saw him very little over the next four years. She worked first as a volunteer nurse, and then in the hospital dispensary, where she acquired her knowledge of poisons, which she would use to great effect later in her novels.
Eight years passed before Agatha wrote The Mysterious Affair at Styles. It was the middle of the First World War. A new knowledge of poison, the result of her work at the dispensary, gave her a plot and when her mother sent her on her own to Dartmoor, she finished the novel in a fort-night. Afterwards, the momentum slowed. It would be four years-and several rejections-before her first novel was published, by John Lane of The Bodley Head, on terms more advantageous to Lane than Agatha.
The young Agatha loved Abney Hall. It was the married home of her sister Madge, 11 years Agatha's senior. It also inspired Agatha's first novel – The Mysterious Affair at Styles – in which it vied for attention with the first appearance of her Belgian sleuth, Hercule Poirot, was published 90 years ago. Agatha spent many years at Abney and often walked around the Abney estate, quite often on the horizontal growing trunk of a large pine tree, now referred to as Agatha's tree, pencilling stories later to be published.
Agatha created her imaginary world by talking through all the characters, going over and over plots while walking in the Abney Hall estate, and her writing developed from speech, which is considered contradictory by those who knew her, to her shy and reserved nature.
Rosalind Christie
Agatha's daughter Rosalind was born on 5th August 1919 in Cheadle, but a month after, Agatha left her with her mother at the family home and went with Archie into rented accommodation in London. Rosalind spent much of her early years with her uncle James Watts and aunty Madge at Abney Hall and in 1921 Agatha went on a round the world tour with The British Empire Exhibition during which her second novel, 'The Secret Adversary" was published. After her return in 1922 she continued to write a book a year, with some being serialised in newspapers. By 1926 she had written six novels and her name was well known.
However, the next few years were to prove difficult. Her mother died in the spring of 1926 and Agatha was devastated, losing her closest confidante. Agatha struggled through the next few months, but on 3rd December 1926 she disappeared. Her abandoned car was found a few miles from home, which made headline news for several days, with much speculation circulating.
Eventually it appears that a maid in a hotel in Harrogate recognised her, and that she had been staying in the hotel for about ten days, under the name of Miss Neele. Archie collected her, and an explanation of amnesia was given to the newspapers. Her marriage was experiencing difficulties and Archie was unable to support her grief. On Rosalind's eighth birthday, a family holiday in Italy, Archie told Agatha he had fallen in love with Nancy Neele, a secretary where he worked. She divorced Archie in April 1928, and had been making steady creative and psychological progress by that time. In the Autumn of 1928 she embarked on a major trip on the Orient Express from Calais to Istanbul, and across the desert to Baghdad.
On a return journey to Baghdad in 1930 she met Max Mallowman, a young archeologist, and they married soon after. She entered a period she describes as utter happiness and contentment. Agatha travelled extensively with Max and became very involved with digs on archeological sites in Syria and Iraq, which she wrote about semi autobiographically in the book 'Come, Show Me How You Live' published in 1946.
Agatha owed more to her sister Madge than happy memories of lavish Christmases at Abney. Without her taunting, Agatha might never have turned her hand to detective fiction and thus never have entered the record books as the best-selling writer of all time. Today in the UK, more than 30 years after their author's death, her novels continue to sell in the region of 600,000 copies a year. All of Agatha Christie's 84 novels and 157 short stories remain in print making her the best-selling author of all time, according to the Guinness Book Of Records.
Agatha's work has been translated more than 100 languages. There have been more than 100 British TV adaptations and some 30 feature films. The Mousetrap, originally written as a radio play in honour of Queen Mary's 80th birthday, has been running in London since 1952. Would any of this have happened had Agatha and Madge not both read Gaston Leroux's The Mystery of the Yellow Room of 1908 and Madge subsequently dismissed her younger sister's chances of pulling off a similar detective story?
There is a high probability that Agatha was served tea on this tray many a time, but there is no doubt that her sister Madge and Husband James, servants, contents and mistique of Abney Hall, play an important role in Agatha's Christies life and her books.
Period:
Edwardian & Later - 1901
Maker:
Elkington & Co
Maker Bio:
It was founded by George Richards Elkington and his brother, Henry Elkington, in the 1830s. It operated under the name G. R. Elkington & Co. until 1842, when a third partner, Josiah Mason, joined the firm. It operated as Elkington, Mason, & Co. until 1861, when the partnership with Mason was terminated. The firm operated independently as Elkington & Co. from 1861 until 1963. It was then taken over by British Silverware, Ltd.. In 1971 British Silverware, Ltd. became a subsidiary of Delta Metal Co. Ltd.

Silver by this maker is highly desired and collectable